Intelli
SIP
®
PRI

The NEXTGEN PRI

™

has arrived
Voice Carrier PRI

includes
5000, 10000, or custom minute plans
Inbound and Outbound calling
Local and Long Distance (US 48 & Canada)
Conference calling
4 phone numbers (DIDs)
E911 registration (1 location)
Gateway/router
IntelliSIP® PRI circuits provide extensive features and capabilities compared to an individual voice or data line. On top of this, you'll reduce your monthly bill by 40-60%.
Smart T1™
The Voice Carrier PRI is a single line (T1) with 23 unblocked voice channels that allows your business to hold 23 calls simultaneously. If you exceed this, additional channels are automatically accessed so your business operations are never impacted.
Unlike others, the cost does not depend on your geographic location. You pay the same….from sea to shining sea.
Get the service and price you want tomorrow
on the phone system you have today.
INDEPENDENT SCALABILITY • SAME DAY DEPLOYMENT
Keep your PBX, phones, and numbers
Unblocked call paths  (no busy signals)
Direct dialing with caller ID
E911
Native PRI/T1, analog, or SIP handoff
20-30 min install or professional service available
International calling
Built-in disaster recovery with intelligent automatic failover
Additional 2500 minutes at $40 each or 1.6 cents a minute
$.03 a minute for overage
Consolidate multiple analog lines into one for cost savings.
INTELLIGENT PRI  • SMART TRUNK
HOW YOU SAVE MONEY
Voice Carrier created a way for your company to cut costs over traditional land lines (POTS). Analog lines costs between $40 to $60 a month. IntelliSIP doesn't charge per line, seat, or subscription. Here's how it works.
NEXTGEN PRI
In any business, it's rare to find everyone on the phone at the same time. But, with traditional phone lines, you are paying per number/per line, regardless of actual usage. For a business with 50 employees at $50 a phone line, the cost is upwards of $2500 a month before taxes and fees. With a Voice Carrier NextGen PRI you estimate your peak call volume — when everyone might be on the phone at once — and only pay for the call paths required to support that call volume.
Only pay for what you need and inherently save money. Voice Carrier PRI connects to the public telephone system (PSTN), so the call quality is excellent.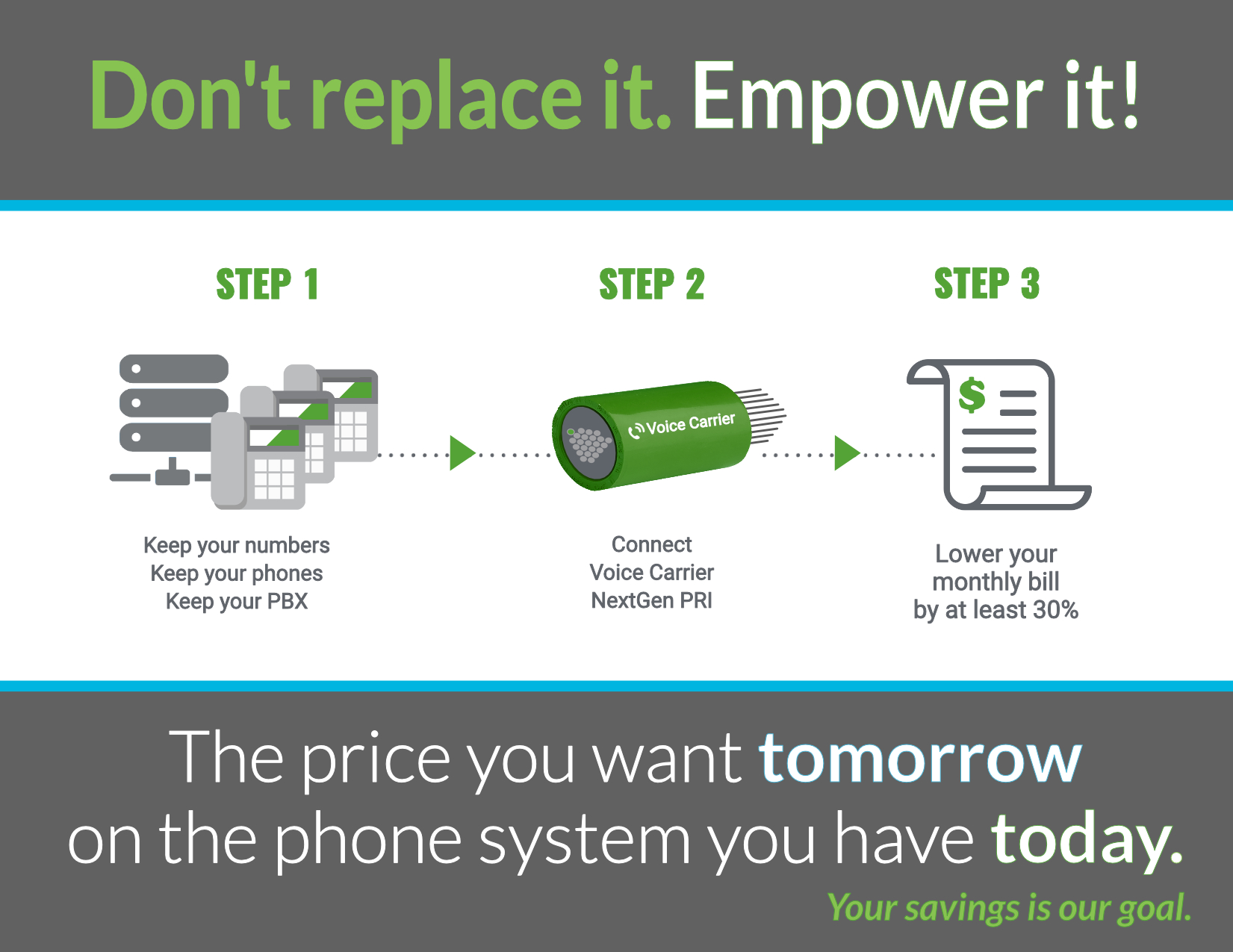 KEEP YOUR CURRENT EQUIPMENT (PBX)
Delivering your voice at a lower cost per word